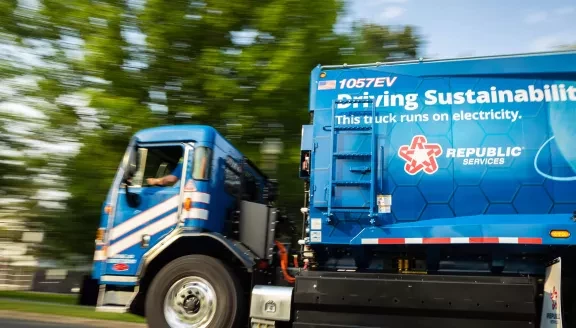 Fleet Electrification
We're driving innovation in fleet electrification to reduce emissions and help meet sustainability goals.
Our Road to Zero Emissions
As part of Republic Services' efforts to significantly lower greenhouse gas emissions, we have made the industry's largest commitment to fleet electrification. To make good on that promise, we are working with multiple suppliers as we scale up our EV fleet. By 2028, we estimate that half of our new truck purchases will be electric vehicles.
Collection trucks drive short distances, travel at slow speeds and make many stops and starts during a route, all of which are factors that make our fleet ideal for electrification. Plus, all trucks return to a base overnight where they can be recharged.
Since our fleet is the fifth largest vocational fleet in the U.S., we believe that our electrification efforts will have a significant impact on reducing greenhouse gas emissions. As our President and CEO, Jon Vander Ark, said, "As the operator of 17,000 trucks, Republic Services is uniquely positioned to advance decarbonization through our commitment to electrification, delivering environmental and economic benefits." By utilizing electric vehicles, we can help the communities we serve have cleaner air—and help assure our partners that they are working with a company that's dedicated to sustainability. By the end of 2023, we expect to have more than 20 EVs in operation.
35%Absolute Scope 1 and 2 greenhouse gas emissions reduction goal by 2030
50%of all new trucks purchased will be electric by 2028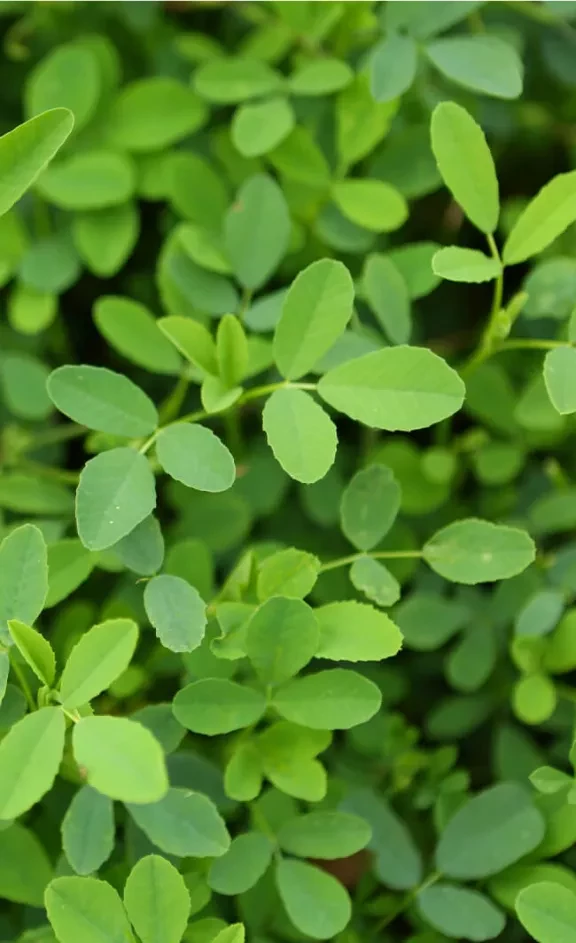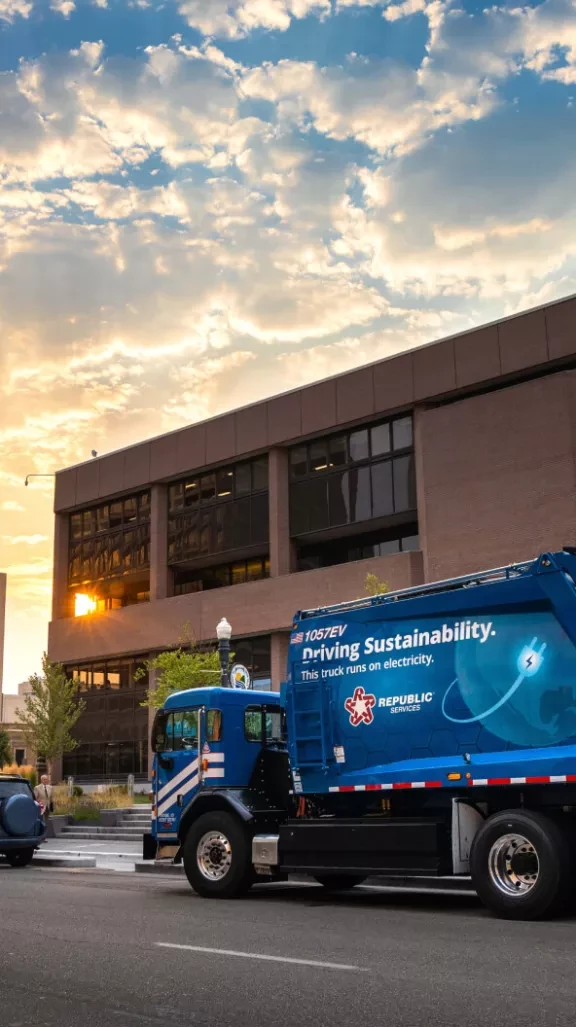 Benefits of Electric Vehicles
We believe that electric vehicles are the right choice for Republic Services' fleet for several reasons, including:
01
Fewer Greenhouse Gas Emissions
Electric trucks produce zero tailpipe emissions and on average have 93% fewer fuel-related emissions versus diesel, and 91% versus compressed natural gas.
02
Efficiency
Batteries and electric motors are incredibly efficient at turning energy into propulsion. Our electric trucks are 3-4 times more efficient than a diesel truck.
03
Quiet Operation
Electric trucks operate quietly, which is better for drivers and the communities they serve.
04
Lower Maintenance
Less maintenance and fewer repairs mean greater cost savings.
05
Safety
We believe that electric vehicles support our highest priority of safety and advance our mission of sustainability.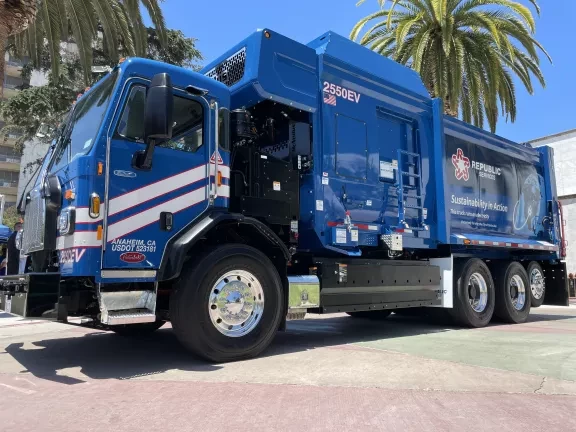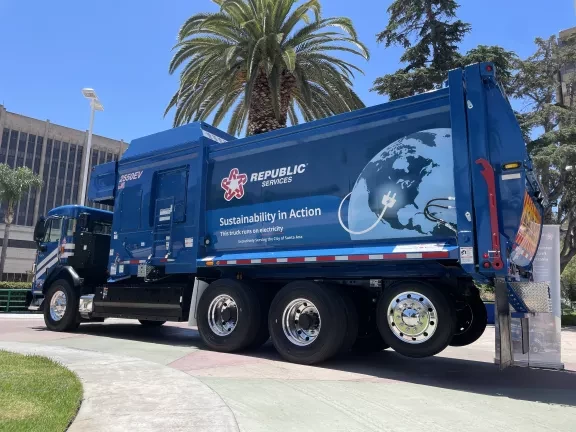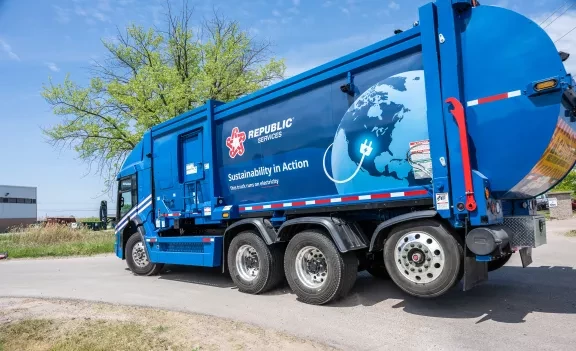 Republic Services is collaborating with leaders in electric vehicle manufacturing to create the next trucks in our fleet, helping to make them safe and efficient. The innovations we're working on together may one day be applied to electric-powered fleet trucks across our industry and others. We're also working on ways to expand electrification beyond our fleet into other areas of our operations, such as the heavy equipment we use at our landfills and recycling centers.
McNEILUS
As part of a long-term agreement with McNeilus, we're rapidly scaling up our electric fleet with the industry's first fully integrated electric collection truck. Republic provided insights to McNeilus engineers regarding operational, safety and ergonomic features for the truck. The chassis and body are designed as a single unit, maximizing interior space and creating a unique, streamlined exterior. Safety features include an enlarged windshield for improved visibility, 360-degree cameras, lane-departure sensors and automated braking. Two prototypes for residential collection will hit the streets of Phoenix later in 2023, with additional vehicles planned for deployment in locations including California and Oregon next year.
PETERBILT
In partnership with the City of Boise, we have a fleet of Peterbilt electric trucks that began collecting recycling in 2021. This rear-load truck services commercial recycling routes and can service 120 containers per day and collect seven tons of material before transporting that material to our recycling centers. This was the first 520ev in operation. Additional Peterbilt EVs are planned for Boise this year in cities in California.
MACK TRUCKS
We began piloting electric trucks in partnership with Mack Trucks in 2020 in North Carolina. The Mack LR Electric Automatic Side-load truck comes with two electric motors producing 536 peak hp and 4,051 lb.-ft. of torque. It's powered by four lithium-ion batteries, which can be charged in about 90 minutes. It has a lightweight body that maximizes hauling capacity and only draws power when needed, helping to extend battery life. We're currently testing this truck in our residential fleet in Hickory, NC. Pilot programs like these enable us to test and refine important features like range, functionality and payload. Additional Mack EVs will be deployed in 2023.