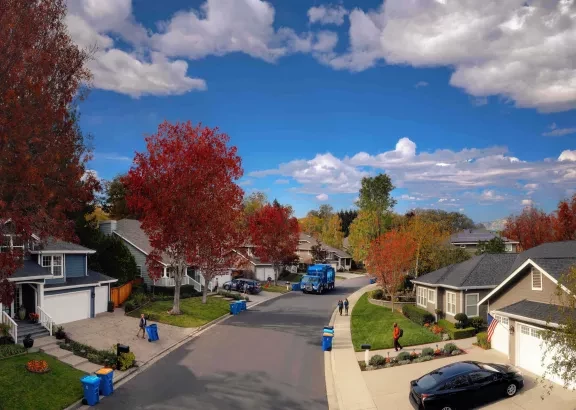 Safety
For an operation to be sustainable, safety must lead the way. Our commitment to safety drives every decision we make, for our employees, customers and communities.
Safety Matters
Our Commitment
Safety is integrated into everything we do at Republic Services.
Employee Safety
Safety, Our First Value
Our team is committed to serving our customers, and we are committed to keeping our team safe. We have 40,000 employees, but our circle of responsibility includes the families, friends and communities who count on them to arrive home safe at the end of every shift.
That's why our processes are rigorous, our training is thorough and our mindset is one of constant improvement. Employee safety is at the heart of our work - across roles, locations and services.
2030 Goals
Safety Amplified0Zero employee fatalities
Incident Reduction<2.0Reduce our OSHA Total Recordable Incident Rate (TRIR) to 2.0 or less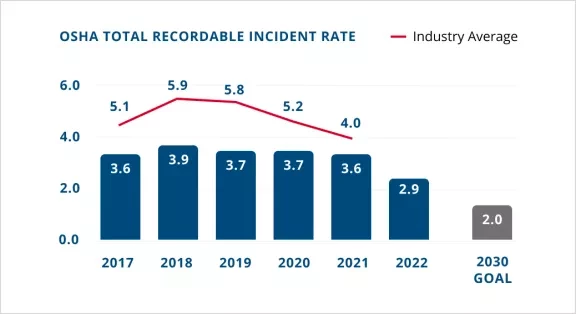 1Occupational Safety and Health Administration (OSHA) is the main federal agency charged with the enforcement of safety and health standards. The OSHA recordable rate shown is the Total Recordable Incident Rate (TRIR) and is a function of the number of recordable injuries and the total number of hours worked. Published OSHA data lag one calendar year.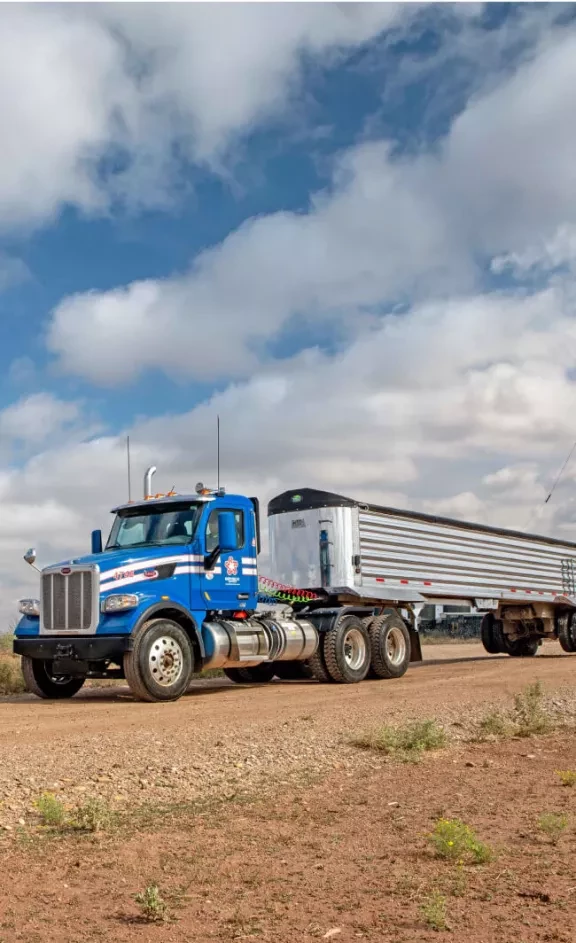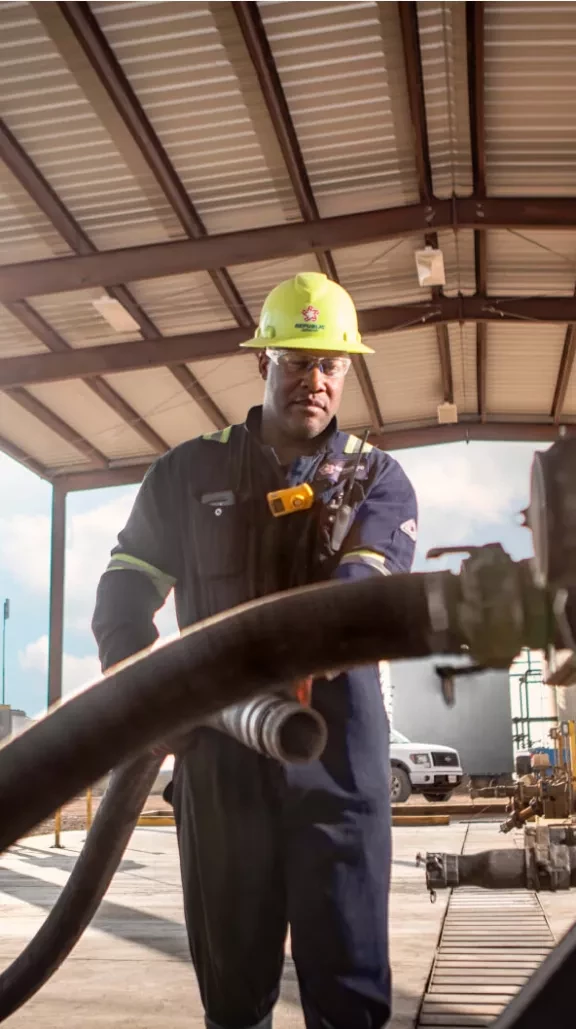 Our Platform
Safety Amplified
We ensure safety is embedded in everything we do through these focus areas.
Our Platform
Safety Amplified
We ensure safety is embedded in everything we do through these focus areas.
Partner Together
Involves employees at all levels to stay safe and support division safety goals.
Celebrate Together
Recognizes our team's achievements by tracking safe days and sharing proven best practices.
Analyze Together
Evaluates real-time data to inform decision-making and identify opportunities for growth.
Lead Together
Prioritizes employee communication through engagement, coaching, mentoring and follow-through.
Focus Together
Provides our workforce with best-in-class training to help eliminate the most common types of serious incidents.
Innovate Together
Utilizes advanced fleet technology to help keep people safe.
Serving With Safety
Partnering to Keep Communities Safe
When we're out in our fleet of 17,000 trucks making 5 million daily pickups, it's clear how important it is to keep safety at the very top of our priorities. That commitment extends to the landfills, recycling centers and other facilities we operate. Our standards and practices at these locations help us keep communities clean and safe.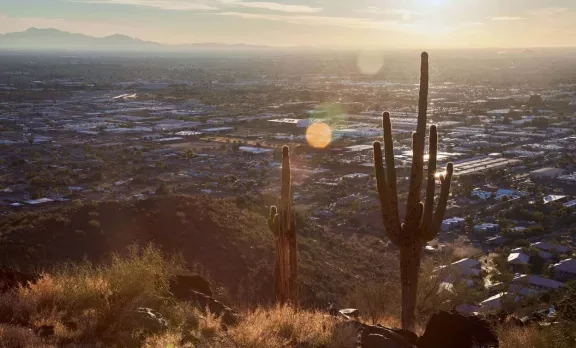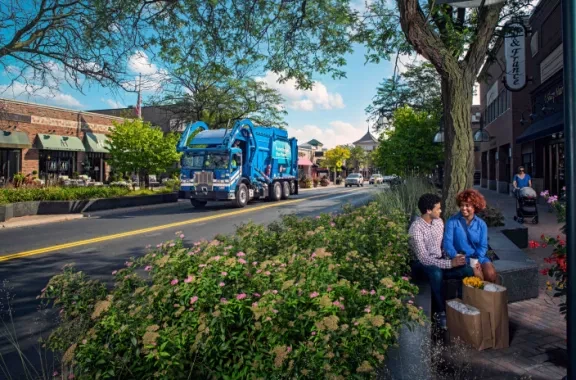 Together for Safer Roads
Since 2016, Republic Services has partnered with Together for Safer Roads, a coalition of private fleet operators working together to advance road safety. Through this partnership, we're testing ways to improve drivers' in-cab visibility and reduce blind spots. A pilot program will soon be deployed, in collaboration with other fleet operators, that will use behavioral AI technology to help improve visibility and reaction times, making the roads safer for everyone including pedestrians, bicyclists and motorcyclists.

Enhancing Safety on the Road
Next-Gen Truck Safety
Our future Next-Gen trucks are designed with 150+ safety features. Here are just a few of them, including new ideas that will make them even safer.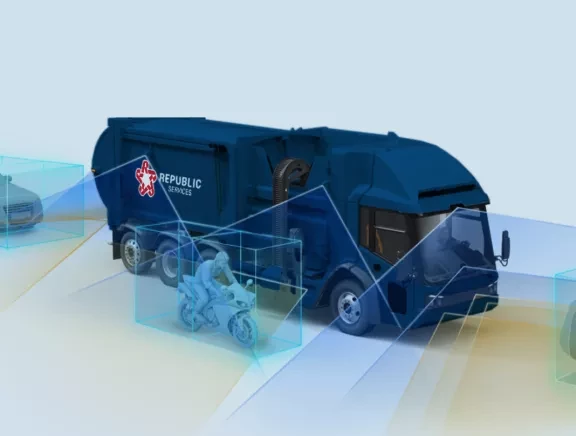 1
Brake Light Bar
Republic Services designed a rear light bar that spans the width of the truck to utilize multiple LED lights for better visibility.
2
Automated Side Load (ASL)
76% of our residential routes are automated, keeping a driver in the cab and out of harm's way. We continue to convert routes to automation.
3
Collision-Avoidance Cameras
These cameras analyze roadway conditions and driver habits, allowing the opportunity for coaching to modify behaviors before an incident occurs. We will be broadening the roll out to more of our fleet in 2024.
4
Direct Visibility
Designed in partnership with Together for Safer Roads, an enlarged windshield and additional side windows in the cab will offer a driver greater visibility. Coming in 2024
5
Driver Assistance Technologies
We're working with equipment manufacturers to incorporate technology including 360-degree cameras, lane-departure monitoring and advanced braking. Coming in 2024
Investing in Safe Operations
Advanced Facility Safety
We're keeping our recycling centers, transfer stations and landfills safe through enterprisewide training and standards.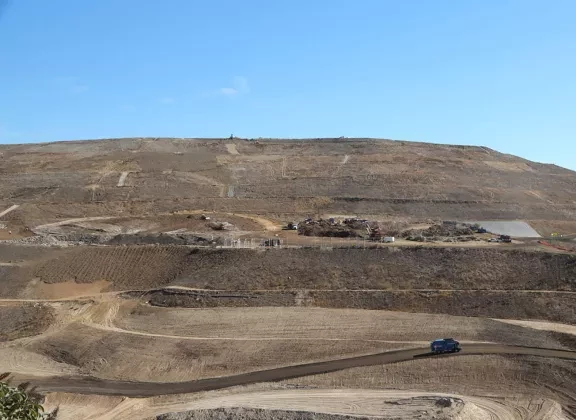 Landfills and Transfer Stations
1
Traffic Flow
Patterns are designed for safety and consistency
2
Communication
Clear communication methods between drivers and heavy equipment operators ensure safe on-site navigation.
3
Safety Signage
Highly visible notices communicate safety expectations.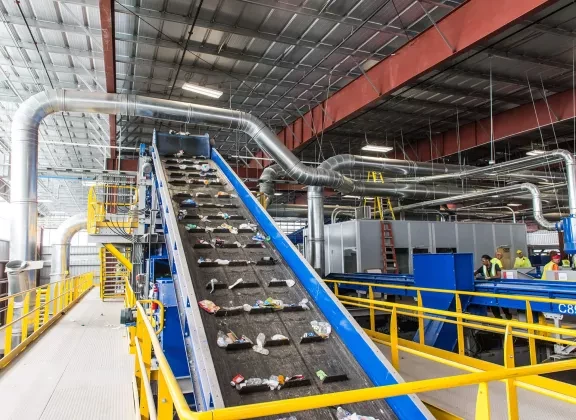 Recycling Centers
1
Personal Protection Equipment
Employees are provided with and required to wear enhanced visibility uniforms, hearing protection, ear and face protection, and puncture-resistant work boots.
2
Safety Zones
Designated walking paths for employees are free of moving equipment.
3
Safety Lights
Forklifts have blue safety lights for improved visibility while in motion.
4
Automated Fire Supression
Republic is exploring Innovative sensing technology to quickly identify and control fires, protecting people and property.
Honoring the Industry's Best
Driver and Operator of the Year Awards
Each year, the National Waste & Recycling Association recognizes drivers and heavy equipment operators who perform safely, maintain a superior performance record and enhance the overall safety and image of the industry. Republic Services is proud to have our employees consistently recognized by these prestigious awards.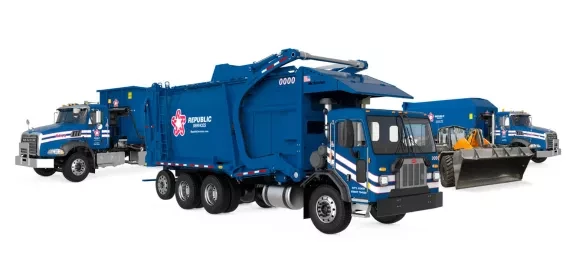 2023 Winner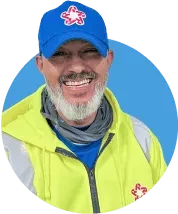 Residential
Driver of the Year
Felix Martinez
Mt. Prospect, IL
2022 Winners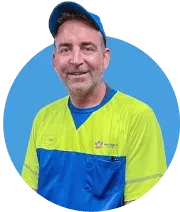 Residential
Driver of the Year
Richard Denshuick
Baton Rouge, LA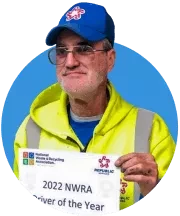 Residential
Driver of the Year
Kevin Johnston
Baton Rouge, LA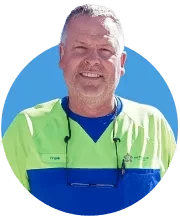 Commercial
Driver of the Year
Frank Epps
Branson, MO
Industrial
Driver of the Year
Jason Tavares
Yorktown, VA
2022
2021 Winners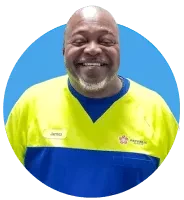 Residential
Driver of the Year
James Davis
Fort Lauderdale, FL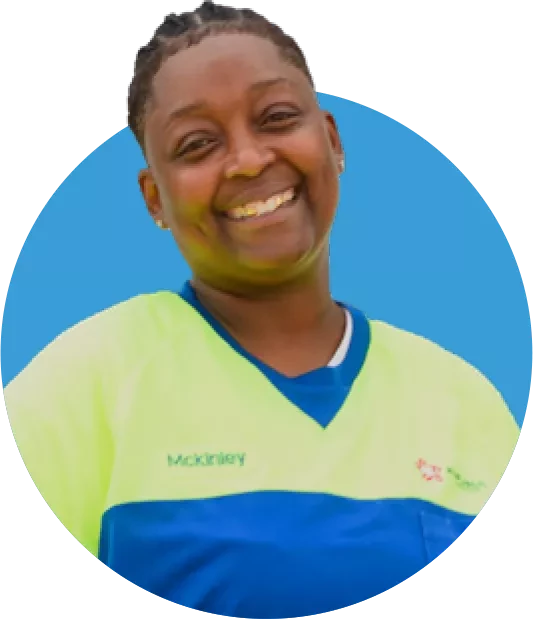 Commmercial
Driver of the Year
Dedra McKinley
Baton Rouge, LA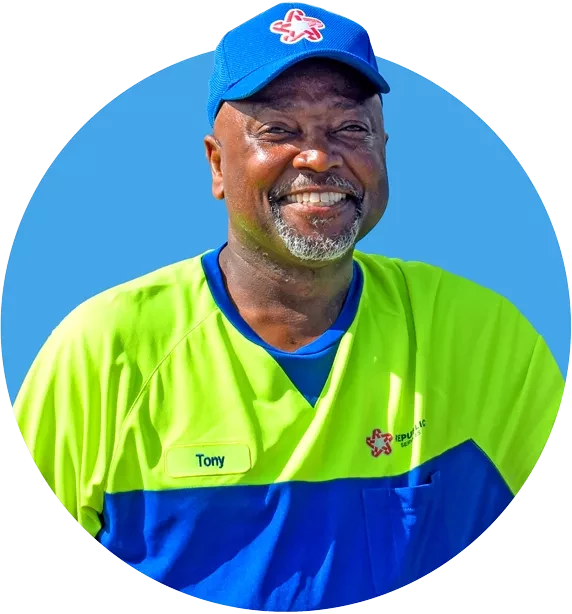 Industrial
Driver of the Year
Tony Forrest
Charlotte, NC
Operator
Driver of the Year
Victoria Barragan
Milpitas, CA
2021
Commitments Count
Republic Services employees invest significant time each year in safety training, a commitment that shows up in consistently safe performance.
1.4MSafety Training Hours
12KDrivers With Perfect Safety Records