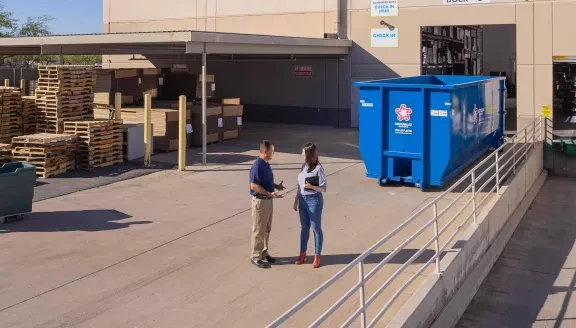 Sustainability Services
Even ambitious sustainability goals are attainable with the right partner. Let us help you develop a plan that fits your priorities and your capabilities.
Informing and planning your next steps
Supporting Your Strategy
Reaching your waste-related sustainability goals may feel like a lengthy and complicated process. But our team of experts can help you find your way. Our work begins with understanding your business and sustainability objectives.
Contact Us
Sustainability Assessments
Start on your journey to sustainability with an analysis of where you stand now. Our BluePrint™ Waste Assessment analyzes the volume and type of materials your operation produces and identifies the right mix of services to help you manage and divert waste streams.
Goal setting and strategy
Partner with our operational experts to measure your baseline and establish realistic but ambitious sustainability goals.
Program Management
Together, we'll create a roadmap to your sustainability goals with cost-effective solutions suited to your operation. Services include identifying outlets and logistics for different waste streams, and customer and employee training and incentive programs to support success.
Sustainability Reporting
Through your dedicated account manager and our reporting portal, access the information and support you need to make effective decisions and meet reporting requirements, including Scope 3 greenhouse gas emissions from waste.
Carbon Calculator
This calculator estimates the greenhouse gas emissions (metric tons CO2e) associated with your materials' end-of-life and the avoided emissions from recycling. The calculation also estimates the tailpipe emissions during collection.
What type of customer are you?
Est. Yearly Emissions Generated (Metric Tons CO2
e

)
Emissions generated via transport and decomposition of waste in a landfill. Fewer emissions are generated by recycling and composting.
Est. Yearly Emissions Avoided (Metric Tons CO2
e

)1
Emissions avoided via recycling and composting, versus sending the same material to the landfill.
Equivalent to Preventing2
Pounds of coal being burned

or
gallons of gas being consumed
1Represents the full life‐cycle benefits associated with avoiding the extraction, manufacturing or processing, transportation, and end of life management of new materials.

2Emissions avoided through recycling and organics diversion are equivalent to the emissions that would be avoided by preventing the described use of either coal or gasoline.
Our methodology uses the U.S. Environmental Protection Agency's (EPA's) Emission Factors for Greenhouse Gas Inventories, the EPA's Volume-to-Weight Conversion Factors, and the EPA's Waste Reduction Model (WARM) v15. This calculator presents emissions based on models, not measurements. Therefore, the values provided shall not be used to report an exact quantification of your emissions. The values above represent the emissions released or avoided by one year of the selected services.